Sep 5, 2021
Document Collaboration
Work collaboration is a widespread practice for both daily and longer-lasting innovation in modern organizations.
Gartner forecasts that 80 percent of e-commerce organizations and mid-market companies may currently have content collaboration and information technologies.
These tools offer specialized features and functions and are always evolving to meet the varied needs of businesses in making information accessible to everyone and having increased transparency within a company.
What is Document Collaboration
Document collaboration tools provide multiple teams with the chance to work on a single draft simultaneously without lag during production. These software tools help to reduce miscommunications while allowing users to create documents faster and more efficiently.
No business is complete without teamwork. When team members work towards a common objective, it encourages creativity and provides a sense of community within the workplace. Document collaboration tools offer multiple employees to work on a single document through different computers whether they are working in the same office or are working remotely, from home. Thus making team collaboration a breeze.
Best Document Collaboration Tools
This is possible through a wide range of document collaboration tools that are now crucial to the working of every organization, from start-ups to enterprises. We'll discuss a few popular ones here.
1. ClickUp
ClickUp is an all-in-one productivity platform that saves you time by helping you keep track of all of your work and documents in one place. With assigned comments, embedded media, internal links to ongoing tasks or projects, public sharing, and more, ClickUp makes it easy to incorporate document collaboration into any project - regardless of its scope. ClickUp Docs seamlessly integrate into your workflow, allowing your team to collaborate in real-time without needing to navigate away from your project management platform.
2. Google Docs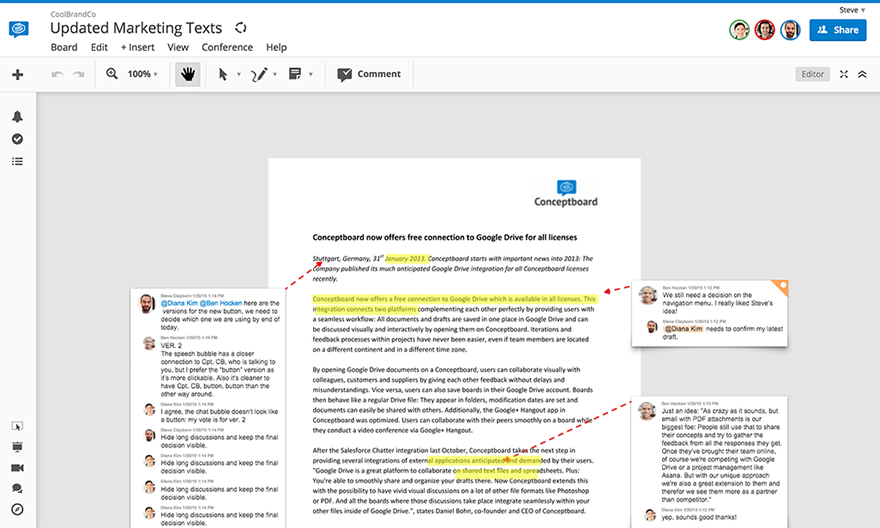 Google Docs is a central data repository that makes steam document collaboration possible by allowing organizations to create and edit various kinds of documents. It also allows reserving the rights to who can access these documents and who can edit them among multiple team members who have access to it.
3. Microsoft 365
Too much time has gone into compiling the changes from different documents into a final version and sifting through emails to find previous versions of a single document. With Microsoft 365, that's no more the case. It's an online collaboration tool that offers multiple users to collaborate on all your favorite software from the Microsoft Office Suite such as a Word document, Excel spreadsheet, or PowerPoint presentation in real-time.
4. Zoho WorkDrive
The Zoho WorkDrive is another great collaborative platform where you can create a shared workspace that brings all organization folders and documents within the reach of all employees who have been granted access to them. This makes information available to everyone who needs it at any time thus reducing dependency and making the workflow process run smoothly.
5. Notion
The notion is an all-in-one workspace that combines to-do lists, notes, and much more in a single project management tool. It allows users to assign tasks, plan their projects by setting small goals through Kanban lists, and much more. It is a feature-packed collaboration tool that syncs team members so they are all on the same page when it comes to any work-related objective, whether it be short-term or long-term.
6. Bit.Ai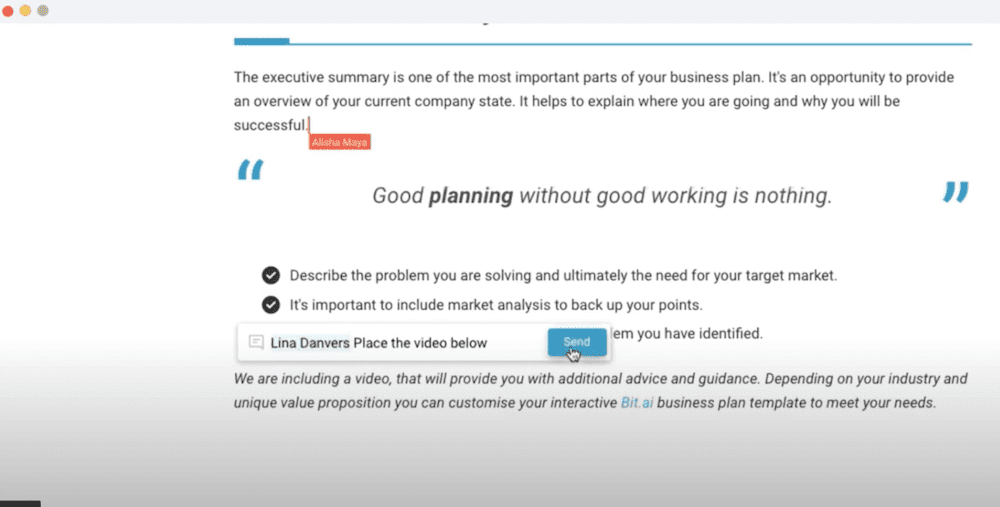 Bit.ai is a software that provides an end-to-end file collaboration system that is popular amongst a plethora of well-known companies. Users may download and share content on their devices via Gmail, Dropbox, and Microsoft SharePoint. To enhance security, it offers the option of setting expiry dates for internal or external records access. The unlimitedited version history of documents can also be tracked.
It's useful for teams that frequently repurpose existing content and even more so for companies that need to share some data with external stakeholders.
7. ZipBoard
zipBoard is a web-based visual feedback and bug tracking solution for your documents. It lets you annotate on multiple file types, PDFs, images, videos, URLs, SCORM, etc. and simplifies your document collaboration process for internal and external reviewers. You can review all your online proofs on a centralized platform and get rid of the endless email chains and screen-sharing meetings. With the traceability of all versions and changes and clear designation of roles, zipBoard helps ensure confusion-free collaboration. While letting you request custom API creation on-demand based on your needs.
8. Canva
Applications like PDF editor and word processor are frequently used by people to easily update their documents. This provides the means of creating, reviewing, and modifying documents which is the optimal method for document collaboration.
Canva's free PDF editor is the easiest online PDF you'll ever use. The app will convert and customize your PDF file by breaking it down into editable elements. Then simply share as a link, or convert to JPG, PNG, or PDF format. You can even download as print-ready files, which you can then share online from the same dashboard.
How Do Document Collaboration Software Work?
Document collaboration softwmakemakese workflow more effective and efficient by allowing data to be accessible to a large number of stakeholders who can provide instant feedback on almost any document type. This makes work more action focused rather than having long discussions over what actions to take and what to improve.
Important Features of Document Collaboration Software
All document collaboration software need to have certain features to assist the needs of organizations and teams. Some of them that you will observe in almost any popular collaboration software are discussed below.
Autosave
Autosave is a feature that automatically saves any edits or changes that are made into the work provided that the user is working online. This eliminates the need for saving your work periodically to be safe in case of a spontaneous system shut down.
Real-time Editing
Real time editing is popular amongst the global internet village where teams are spread over great geographical distances and it becomes necessary to be able to edit and work on the same document from different users and devices so that any changes made by anyone will be visible instantaneously to others working on that document too.
Commenting
Commenting is a great add on that allows team members to provide instantaneous feedback on a particular section, page or word of the document. Once the feedback has been acted upon, the user will have an option to mark the comment as resolved in most collaborative software.
Version Control
Version control records and tracks previous versions of the file so that it is possible to revert to it at a later stage in a single click.
Various File Formats
The best document collaboration tools allow users to work on a wide range of file formats and to save their documents in various file formats as per their needs. Be it to do lists, presentations or simple word documents, a good document collaboration platform can manage it all!
Storage Capabilities
In this data centric age, the need of cloud storage space has never been so evident as before. Team collaboration software hence have storage capabilities where all important documents can be stored on the cloud instead of the organization's servers.
Usability
Having good usability means that a collaboration platform should be intuitive for all kinds of employees. This is an important need that should be kept in mind while choosing the best collaboration tool that is fit for your organization.
FAQs
What is the best way to collaborate on a document?
There are multiple methods to collaborate on a document but the best one is to choose a dedicated collaboration software that supports all your needs and get stated by sharing your documents with your team.
How do you collaborate on a document in real-time?
All document collaborating tools allow you to collaborate on documents in real time. All you have to do is start creating a document and adding your team member to it via the share option.
How do you make a document collaborative?
Upload your document to a document collaboration tool. Grant editing access to all email ids that you require to work on your document and you're all set!
Best Document Collaboration Tool Recap
Documentation collaboration tools help consolidate connections within a team and increase engagement with team and individual person. These help facilitate file manipulation in real-time allowing users to collaborate with their partners and clients on multiple kinds and formats of documents.
Michael Aubry
Hey 👋 I am the founder and maker of Motionbox. My mission is to build useful tools in the video space. I enjoy science, art, and sports. Feel free to reach out to me.