Aug 3, 2021
Employee Onboarding Video
The popularity of videos is rising.
In 2021, a typical individual is expected to spend 100 minutes each day viewing videos.
Video is increasingly being used as a part of the onboarding process for new employees.
The objective of onboarding is to familiarize new employees with the business culture and rules and get them up to speed up the procedure.
What are onboarding videos?
An employee onboarding video is a method used by organizations to explain their core tenets, give employees a preview of what to anticipate, and introduce them to their coworkers.
Engaging onboarding videos are an excellent approach to assist new workers in grasping your corporation's cultures and traditions and a sense of belonging.
These videos help new hires in learning about the company's culture, leadership, and internal procedures. Gather the new hires in a boardroom for an employee orientation session, show the video on a video screen, and you're done - that's how the onboarding process generally begins.
Since the beginning of time, companies have used corporate videos to provide unique onboarding experiences and enhance employee training.
On the other hand, employers have started to embrace these videos as essential tools for remote employee onboarding.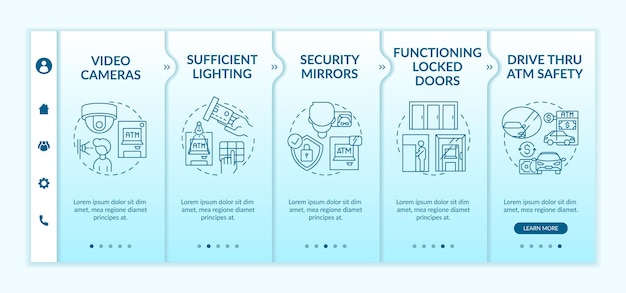 Why Use Video In the Onboarding Process?
According to Aberdeen Group researchers, firms with a structured onboarding procedure have an overall employee retention rate of 86 percent, which is 30 percentage points higher than those that don't.
Today's onboarding covers a dynamic process that typically starts before the recruit's even steps through the entrance and lasts for at least the first 90 days of their stay, much beyond the conventional short induction that many organizations consider adequate for new workers.
According to the annual Nielsen Marketing Report of 2019, video is the second most valuable technique to contact your audiences.
Video captivates, communicates, engages, and captures the interest of the recruit.
People recall around 95% of video-transmitted information compared to only 10% of text-transmitted information.
Furthermore, videos allow you to customize the material to exactly match your organization's corporate identity.
Video onboarding has numerous advantages, including:
Allowing employees to integrate new knowledge by viewing training materials on demand.
The ability for businesses to onboard employees at scale while saving money compared to traditional classroom-based training.
Developing a more consistent message is especially essential when teams are dispersed throughout many offices and may onboard workers remotely.
The notion that video may capture nuances in staff culture and procedures that are frequently lost in textual documentation is known as the "engagement factor." This may be a critical component in assisting a recruit in becoming familiar with how things are done at their new company.
Video helps you save time. Employees are free to study at their speed when all onboarding material is arranged in videos. This way, they'll be able to jot down all critical questions and have one or two Q&A meetings with their boss to deal with the details.
In addition, unlike in-house onboarding sessions, they have the freedom to update the material whenever they choose.
What should an onboarding video for new hires include?
The success of new workers is dependent on effective onboarding. Employees have an average of 90 days or fewer to establish their worth in a unique position.
They are more likely to succeed if given total exposure to the firm, its environment, and the performance objectives.
Company Overview and Welcome
You may establish the tone of inclusion and eagerness for new workers by sending them a welcoming video summary of the firm before they even start.
Consider incorporating an "about us" section that details your company's history, goals, and how the individual will contribute to it.
To demonstrate the business culture, enlist the help of other employees in your employee onboarding video.
Last but not least, request that your leadership team record a welcoming message for new workers.
A personal message from the CEO
A personal note from the CEO may go a long way towards making a new employee feel more welcome. Receiving a warm welcome and a quick overview of the company's history is a fantastic way to make new employees feel appreciated straight away.
Only one possible stumbling block exists: the message must be truly customized. People will see right through generic videos that don't include the person's name or position.
Goals for New Hire Video
This should summarize what the team and the organization expect the new hires to accomplish in their first days, weeks, and months on the job—a road map of goals with deadlines.
Recruits need to know what to anticipate in their new job, and a goal-oriented video may help set those expectations right away.
You might wish to construct an associated checklist for new hires to utilize for optimum retention.
Company Culture and Policy
It's hard to emphasize the importance of providing new employees with an overview of its rules. HR managers typically achieve this by giving them face-to-face briefings or simply providing them the essential process paperwork.
However, when asked if they've read the policies, the majority of the employees say no. What is the reason for this? Simple. It might not be easy to read such long and intricate policy papers.
This is when a video titled "Company Policy" comes into play. The code of conduct, workplace harassment policy, non-discrimination policy, cybersecurity policy, and other policies are all included in these videos.
The onboarding process may be significantly aided by presenting the policy document's vital elements in the form of an engaging video.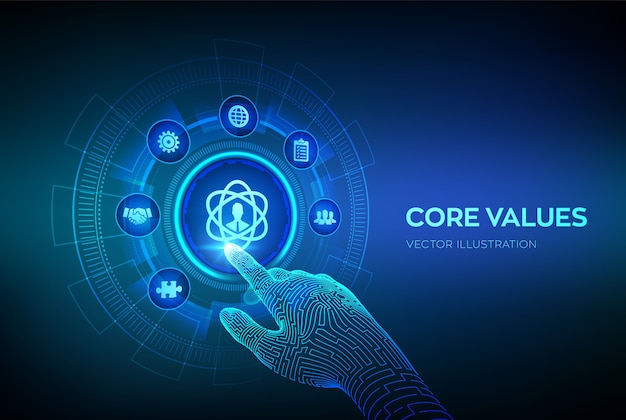 How do you make a good onboarding video?
Motionbox helps teams to create & collaborate on video content and share ideas in real-time. Use Motionbox's free premium templates to create the best onboarding experience for your new employees and help them to know more about your organization's policies and culture and the goals you have set for them.
Step 1: Sign Up
First of all, go to motionbox.io and sign up for a free account to start creating engaging and dynamic videos within no time. You may also sign up for the premium version if you are satisfied with our services.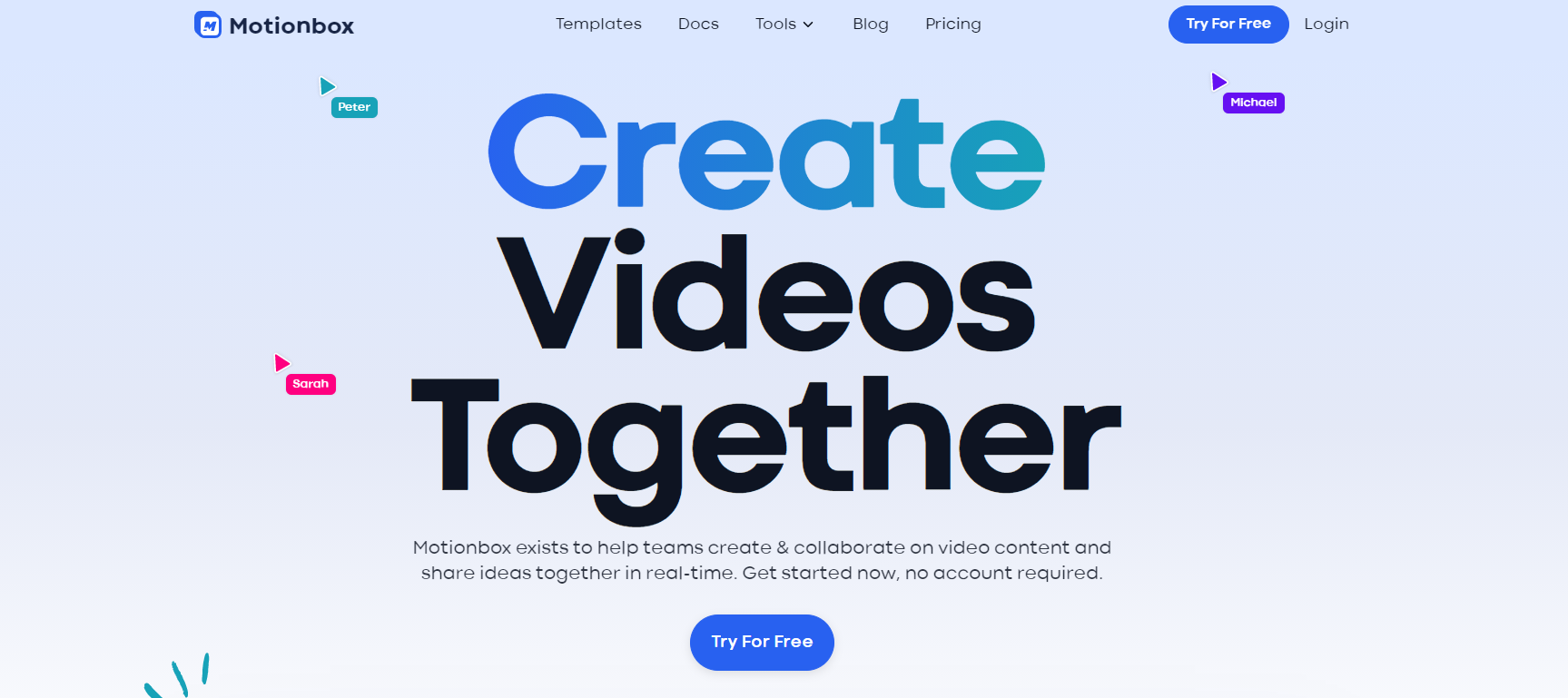 Step 2: Dashboard
After signing up, go to the dashboard and click on "create blank video."

Step 3: Creating an engaging onboarding video using builtin features
Once you are inside the editor, you can see many options which you can use to create your video. You have five different options images, videos, elements, text, and upload on the leftmost bar. Using all these features, you can create engaging and dynamic videos and customize them in any way you want.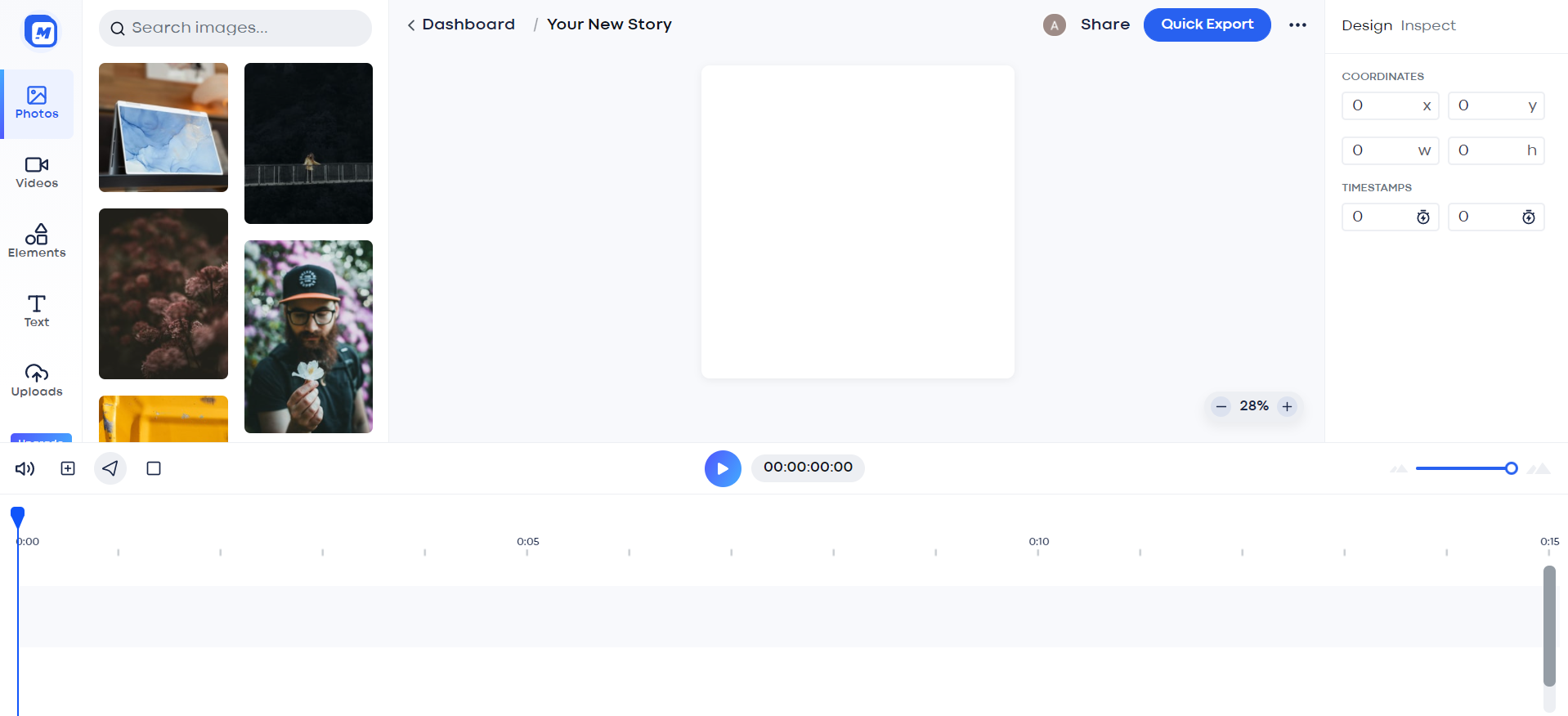 Step 4: Using Built-in Templates
Motionbox.io also provides you with different built-in templates which you can use to create the type of video you want.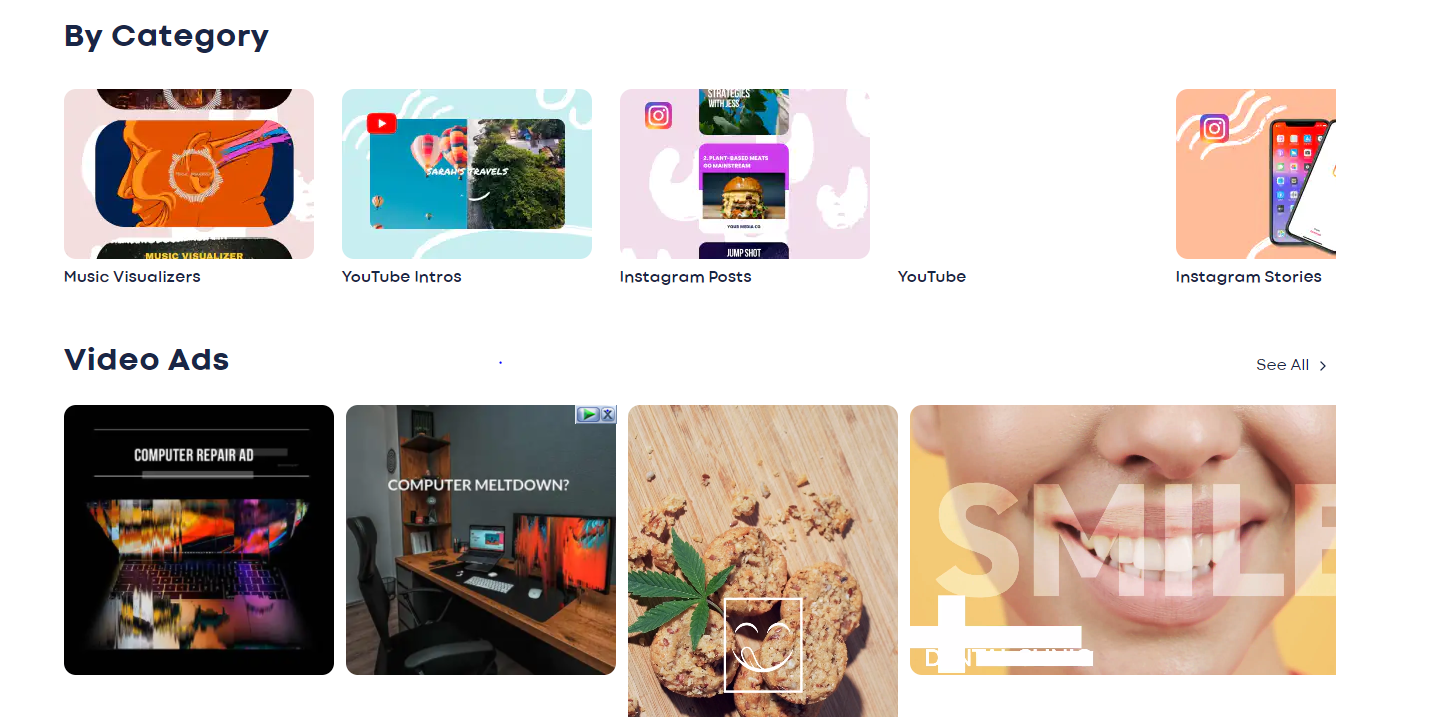 Best Employee Onboarding Videos
Companies are turning to videos to show what the employee experience is like if you work there. Of course, video has long been a popular method to communicate information, so it's not surprising that they're using it to disclose what the workplace culture is like if you work there.
With more Millennials and Gen Z taking on more leadership responsibilities in the industry, they are a generation that prefers video material. As a result, every employee preboarding plan must incorporate this component.
After all, with an increasingly global workforce, utilizing videos to onboard recruits who work remotely makes things easier. Additionally, this may assist in personalizing employee onboarding for your remote workforce by providing recruits with information without needing to come on-site.
Do you need some ideas for making your new hire culture films to welcome your next new employee to the company? Here are four businesses that have gone above and beyond to achieve incredible results.
Innocom Technologies-Onboarding Program
https://www.youtube.com/watch?v=gwC6pLVIx08
Innocom Technologies, a Singapore-based software solution firm, has produced an animated staff onboarding video.
This vibrant, imaginative video includes numerous animated slides that explain the organization's ultimate strategic objectives. Before discussing the current solutions that Innocom Technologies has implemented into their business, they begin by stating their firm purpose.
As the firm delivers vital information about its structure, core team, and fundamental principles, animated figures emerge on screen.
If viewers have any questions, the video concludes by inviting them to contact a member of staff.
Spotify: How-we-engineer illustration video
As an agile company, how do you describe or demonstrate your work processes?
Spotify chose to explain this in a 26-minute video that shows how scrum is used in engineering teams and how team cooperation and autonomy characterize Spotify's culture.
Yes, it's a long video, but the clever thing about it is that Spotify managed to simplify a complicated work process while also bringing it to life with simple drawings and a voice-over.
This offers recruits an idea of how they will participate in the work process and influence the culture: "You are the culture, so model the behavior you want to see."
Google-An Intern's First Week
https://www.youtube.com/watch?v=9No-FiEInLA
Google is arguably one of the first companies to come to mind when you think about unique corporate cultures.
In this video, they did an outstanding job conveying the message: The video shows five summer interns (from various backgrounds) discussing their own experiences, ranging from their first days on the job to the specific projects they worked on.
Joining such a problematic program must undoubtedly be nerve-wracking. But, as a result, the video's general vibe is warm and friendly.
If you also offer an internship or a trainee program, making a similar video might help your new hires have a positive onboarding experience.
Drift-Part of the Team
Drift, a Boston-based conversational marketing company, does an excellent job with its new hire culture video.
It demonstrates a strong brand and includes a bird's-eye tour of the company on a typical day. Viewers float around various parts of the facility, where employees (dubbed "Driftlings") collaborate and work on multiple projects.
The entire film gives viewers a sense of what it's like to work for the firm by immersing them in the culture.
Recap
Hiring the right people can be an extensive process. However, you mustn't allow all of the hard work to go to waste after they've joined your team.
Employee onboarding is an essential step in ensuring that your recruits have all they need to succeed. Video is a fantastic method to onboard new team members and workers.
To begin with, it's bright, engaging, and dynamic, capturing and holding attention in a way that few other forms of media can. It's also highly adaptable and versatile, with features such as screen recording, animation, live-action, and interaction.
Finally, it may be used again, ensuring that each new user receives the same warm greeting to your brand. An onboarding video is an investment that will pay off for your company for years!
Michael Aubry
Hey 👋 I am the founder and maker of Motionbox. My mission is to build useful tools in the video space. I enjoy science, art, and sports. Feel free to reach out to me.