Sep 3, 2021
How to Make a GIF From a Video
GIF is essentially a still image (lossless). Multiple GIFs are combined to create short animated art with less than 20 frames per second. So, looking from a video perspective, a GIF is made up of intra frames - encoded with its structure.
However, a video contains both intra and inter-coded frames. Videos are also typically lossy, and GIFs are lossless.
Considering the above differences, many people and brands are now extracting enough information from videos to make  GIFs.
These video clips converted to GIFs can be used further to capture the audience. This article will provide you a complete guide on how to make a gif from a video.
How to Create an Animated GIF
Following are the step-by-step instructions on how to make a  gif using motionbox.io.
Step 1: Visiting Site and Opening the Video clip editing dashboard.
Go to the site, motionbox.io, and select "All features."
Now select the "GIF Editor" feature, which will take you to the log-in screen.
If you don't have an account already, you can sign up using your email address or your google account.
After logging in, select the option "Create Blank Video" to make a gif.

Step 2: Start Creating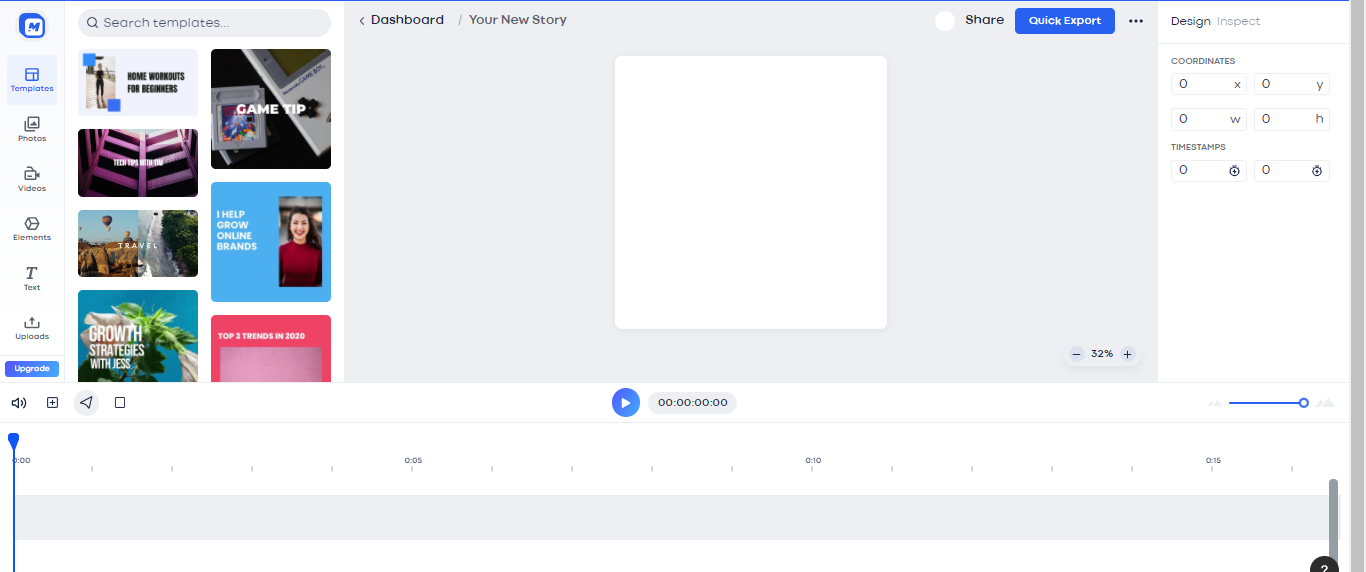 You can now make a gif by clicking any image most fitting to the type of video file you aim to create.
Your dashboard contains a white background that is going to be the aspect ratio of your gif.
Apart from images, you also have access to video files, text, and elements that you can choose from and create animated gifs.
You can also upload your video file and image.
Step 3:  Add an image or video to the timeline
Add an image to your dashboard, and it will be added to the timeline. For adding an image from the templates, you need to select and drag the template. After that, you can choose the size and aspect ratio of the image/video.
Adding stickers, changing frame rates, detailing, and different motions for images and videos are available.
A pink border means that the particular content has been selected.
The photo is defaulted to being 5 seconds long by motion box, which can be adjusted later according to your need.

Step 4: Move the time cursor
The time cursor is a blue vertical line hovering over the timeline. It indicates your position on the timeline, and you can drag and move it and glide across the video in time. As you move it, your screen will move the gif as well so you can have a clear look at how it will look when it is played. This feature can be used to preview how the changes you made look like. The content added to the timeline can be trimmed and shrink as per your requirement. The images/videos placement and order can be changed by simply dragging and dropping.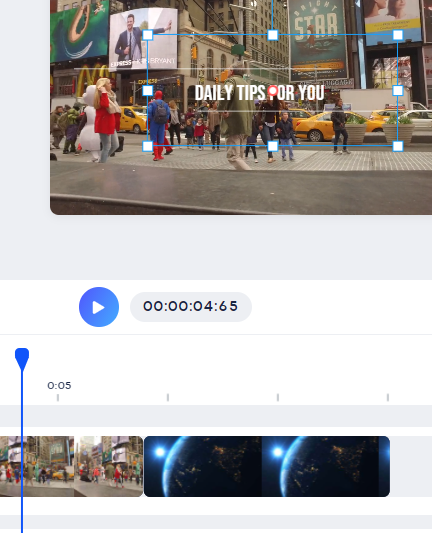 Step 7: Insert Motion
You can add motion to images to give them a loving touch, and the option is available on the bottom right side of the screen. Motions enable users to play with ideas more freely and focus on particular angles and directions to convey messages using gifs.
Step 6: Modify Text
You can add text and change it easily if you use a template by simply clicking on the input and rewording it. Click next when you are done.
The texts already available in templates are also animated, and this means you'll no longer be dealing with dull and mundane text styles. The templates can be chosen by simply clicking on them.
The text size and position can be adjusted by using common drag operations.
Step 7: Export your Video
At this point, you are almost done with creating your gif. Click the export button and wait a second. After this step, you'll have an exciting new gif to share with the world.
Other Features Offered:
Motionbox also offers a lot of other features to help create gifs. You can choose the dimensions for a youtube video, Facebook, or other social media platforms from the top right corner.
The youtube video option has multiple file size settings to go with. Motionbox offers you to make high-quality animated gifs for almost all media platforms.
The gif from the video can also be resized using another feature from the motion box. The gif file is hardly greater than 5 seconds since the file size is needed to be very small for any gif online.
FAQs
What Video File Can I Use?
Basically, all common formats can be used to make animated gifs. Your own video of any common format can be used to make a gif.
Some of them are listed below:
MP4,MOV,AVI,FLV,MPG,MKV,WMV,MOB etc
Do I need to use a Video URL?
No, you can upload your own movies. You aren't limited to use a video URL to upload any video online. You can upload any of your existing videos and perform video editing using the video timeline.
IMGUR Video to GIF Not Working
There are multiple ways to troubleshoot this problem:
Change your DNS settings
Close the app/uninstall and open/install again
Make sure you're connected to WiFi
Imgur may be having technical difficulties, and you can check their Twitter and Status page to see if they are experiencing downtime.
Video Clip to GIF Recap
Numerous Gif maker apps can help you make a gif from a video. As the embed code in gif can be easily extracted from an existing video. Motionbox offers a user-friendly interface to create a gif online and save the gif file in a suitable gif format for various social channels.
Tools ranging from choosing frame animation to multiple gif settings such as excess to animated texts and elements are provided.
It is a super quick and efficient tool to edit images, videos, add filters, add captions and create frame animation. You can then export save for web legacy and finally make a gif from a video, free of cost.
Michael Aubry
Hey 👋 I am the founder and maker of Motionbox. My mission is to build useful tools in the video space. I enjoy science, art, and sports. Feel free to reach out to me.